To apply for admission, please complete an online application form. First, create your myRIT Portal account (see image below) and wait for your assigned RIT Username and Password to be sent to your e-mail account. Next, login to begin your application form online.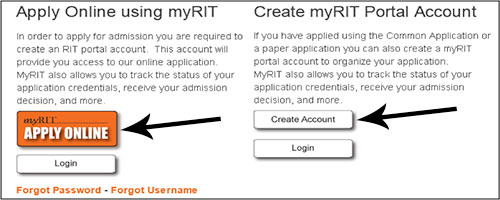 You may submit your application materials on an intermittent basis. When all documents are received (aside from the Declaration of Financial Support form and supplementing financial documents), we will begin the review of your application, and if you are accepted, we will start working with you on gaining your student VISA to study in the United States. Applicants who do not provide financial documents initially may be conditionally admitted and full admission will follow after receipt and review of financial documents. The amount of scholarship support will not be known until we receive your full application materials.
RIT/NTID recommends that you send the Declaration of Financial Support Form and supplementing financial documents last as we need your most current financial-related records.
Application Fee
There is an application fee of $65USD. Contact NTID's International Admissions Counselor, Rick Postl (Rick.Postl@rit.edu), with any ability to pay issues due to financial hardship.
Application Essay
The personal essay helps us to become acquainted with you as a person and student, apart from courses, grades, test scores and other quantitative information. An essay is usually up to 650 words, or half a page long, and should be written without assistance from others so we can see your true English language skills. Your essay topic should answer one of the following questions:
If you have an exceptional talent or skill you are particularly proud of, please share it with us. Examples may include talents in athletics, dance, entrepreneurship, music, theatre or visual arts. How have you developed or demonstrated this talent or skill over time? Most importantly, what makes this talent or skill meaningful to you?
RIT is a kaleidoscope of curious minds, each embraced for their uniqueness, yet united in our chase to achieve something, perfect something, or realize something. We look for the passionate, the creative and the focused. What is it you hope to achieve, perfect, or realize as a student at RIT?
Across the globe, we are connected as one community—sharing the same problems and opportunities. Some of these include education, the environment, health care and inclusiveness. When you think about the future, how do you plan to contribute to guiding our society? What impact do you want to have on the world?
Why have you chosen to apply to RIT? This essay should include why RIT appeals to you, the reasons why you've chosen the program/major you wish to pursue, and how you expect this program/major to prepare you for life after college. If you are applying to more than one college or program, please mention each college or program to which you are applying.
Official High School and/or College Transcript
If you are a freshman applicant, you must submit official transcript/s from all previous secondary or high school/s you have attended. If you are a transfer student and have less than 30 college credits, you must submit transcript/s from all high schools. Transfer students with any college credit taken or earned must submit transcript/s from colleges you have attended, even if you did not complete your studies at a school. The transcript/s should be sent directly to RIT/NTID by an authorized school representative, whenever possible.
Letter of Recommendation
One recommendation letter is required, but more are welcome. The individual writing the letter may submit the recommendation by email to NTID's International Admissions Counselor, Rick Postl (Rick.Postl@rit.edu). The recommendation letter must be sent to us directly by the person writing the letter, not the applicant. Most recommendation letters are written by teachers, school counselors or an individual who knows your academic background. No family members may write the letter of recommendation.
Audiological Record
An audiogram is required for deaf and hard-of-hearing applicants to confirm substantial hearing loss for study at RIT/NTID. You may submit an audiogram from your audiologist or have your audiologist complete the audiological record form. The audiogram must show hearing loss in both ears and be "unaided" (tested without amplification).
In lieu of an audiogram, we accept the Disability Government Identity Card.
Declaration of Financial Support Form
The total cost for study at RIT/NTID at the reduced tuition rate for eligible deaf and hard-of-hearing students is approximately USD $50,000 (2020-2021) and is adjusted on an annual basis. See Tuition and Fees for deaf and hard-of-hearing international students for a schedule of costs. There also are additional costs beyond what is charged by RIT for tuition, room, board and student fees such as transportation, winter clothing, books and supplies and the SEVIS fee. Specifics may be discussed between you and your admissions counselor.
Please complete all sections on the Declaration of Financial Support form and provide supplementing documents (i.e. bank statement to report available funds, regardless of amount, and mail original copies to RIT/NTID. Tell us "zero" if you do not have any money (cash or savings) instead of leaving the form blank.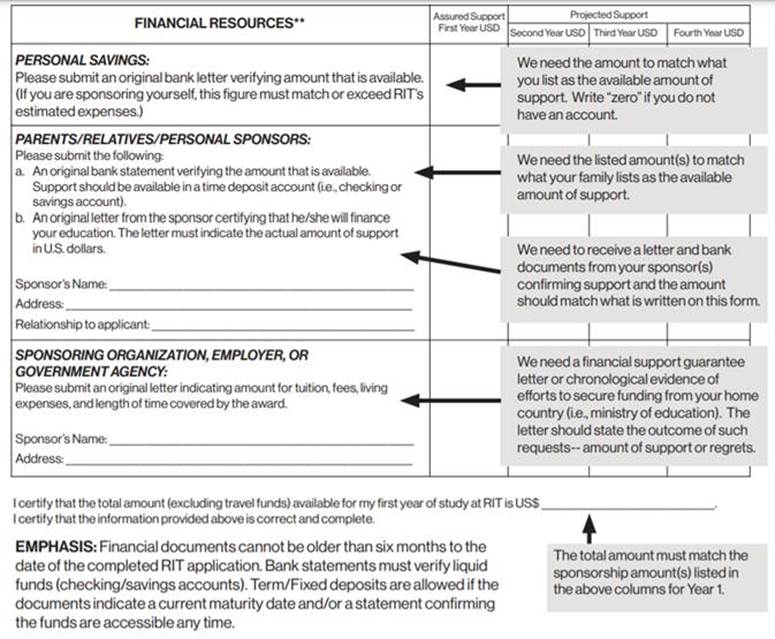 All forms and documents must be dated no greater than six (6) months preceding the date of your completed application. We recommend that you send the Declaration of Financial Support Form and supplementing financial documents last as we need your most current financial-related records. Conditional admission may be offered upon receipt of all academic-related application materials to use the admission letter as you pursue additional scholarships.
Passport
RIT/NTID requires a copy of the passport photo page translated into English.
Applying For a Student Visa
RIT/NTID will issue the I-20 or DS-2019 Forms necessary for you to apply for a student VISA after you have been accepted and after you demonstrate sufficient funds to cover costs of attendance, of which may or may not include scholarships offered by RIT/NTID.
Orientation and Arriving on Campus
RIT/NTID will share orientation information, a checklist to prepare you for your campus arrival, and the RIT calendar once you have been admitted to RIT. In the meantime, review these important websites for additional information and resources: